News
The Media Operations System blog contains tips and advice on the various tools within the system as well as wider advice about radio stations.
Norwich Community Radio Station Releases Charity Single
Posted: 21st October 2020
A community radio station in Norwich has released a single to help them fundraise to find a new home.
Consultation on changes to broadcast licence conditions
Posted: 11th September 2020
A consultation has been launched into proposed changes to broadcast licence conditions that could...
Government supports 31 radio stations to help them stay on air
Posted: 28th August 2020
Ofcom has today confirmed that 31 community radio stations will be receiving grants to help them ...
Three new community radio licences awarded in Northampton
Posted: 24th July 2020
Ofcom has today announced the award of three new community radio licences in Northampton.
Government bailout to 81 community radio stations
Posted: 4th June 2020
Having received 202 applications for a Government bailout, Ofcom has made it's first round of grants to struggling community radio stations
Ofcom issues invitation for Northampton community radio licence
Posted: 15th May 2020
An invitation to apply for the FM community radio licence in Northampton has been issued today (F...
Six new community radio stations award
Posted: 12th May 2020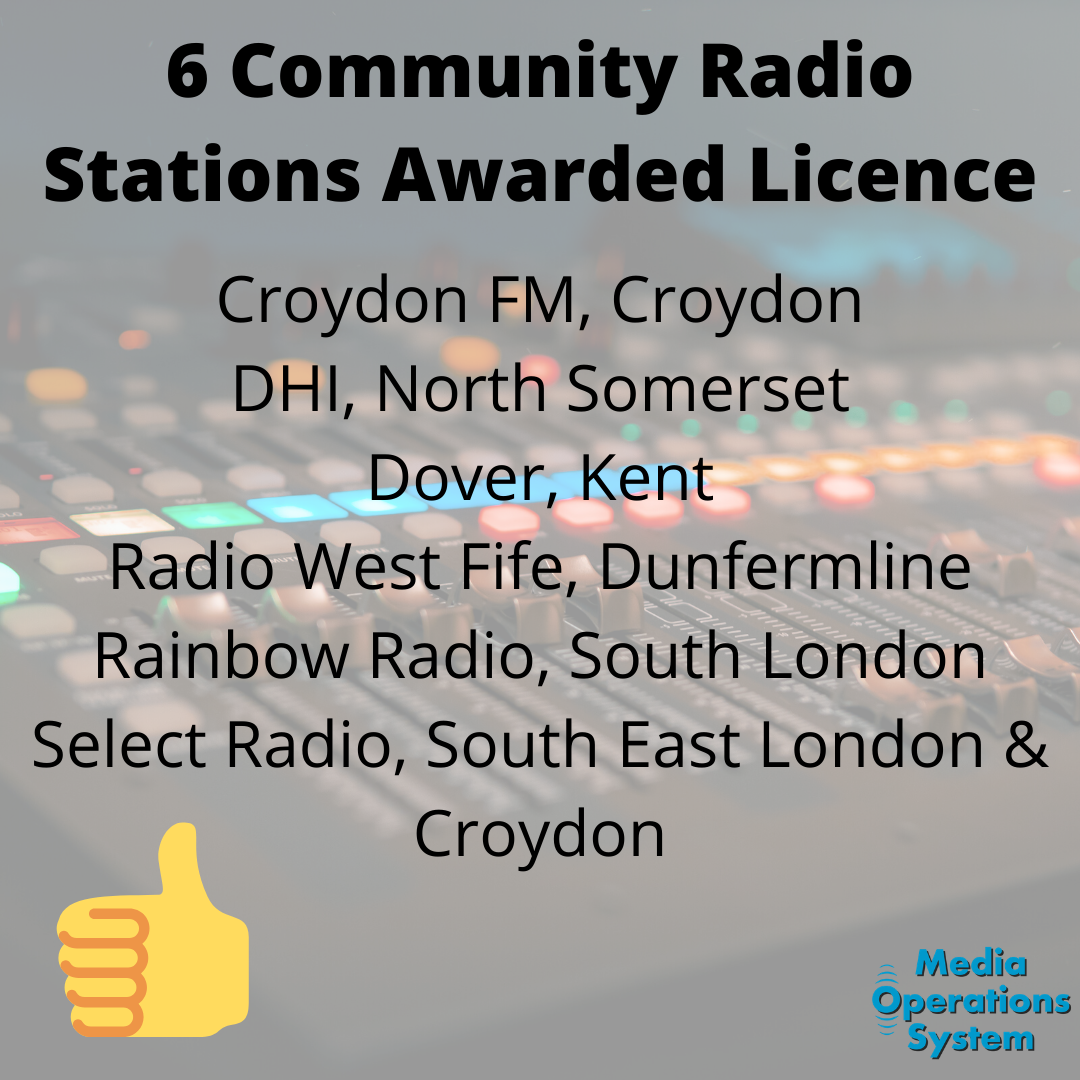 Congratulations to the six new community radio stations that have been awarded licences by Ofcom ...
Ofcom announces emergency funding details
Posted: 29th April 2020
Ofcom has announced details about emergency funding for community radio stations. The funding wil...
Helping hospital and community radio stations plan their shows
Posted: 13th April 2020

We're here to help hospital and community radio stations plan their shows. For any station that h...
Support for hospital radio during coronavirus
Posted: 22nd March 2020
During these uncertain times we want to help hospital radio stations keep by offering the use of ...
Ofcom issues clarification to community radio station
Posted: 22nd July 2019
Ofcom has today issued a clarification to community radio stations over the definition of "o...
2019 Community Radio Awards Open
Posted: 9th May 2019
It's time for radio volunteers across the country to celebrate as the 2019 Community Radio Awards...
Ofcom unveils 43 locations for new community radio stations
Posted: 3rd September 2018
Ofcom has today unveiled a list of 43 locations it will invite applications for new community rad...
Fault Logging Made Easy
Posted: 2nd July 2018
Looking for an easy way to log faults and keep everyone updated? The Media Operations System make...
System Reliability
Posted: 9th May 2018
We know that system reliability is crucial if you're running a radio station. Our text messages h...
Are you GDPR ready?
Posted: 24th April 2018
The Media Operations System has been updated to ensure that your radio station is ready for the n...
Version 4.05 Released
Posted: 25th October 2017
Several new features have been added including an upgrade to the Show Prep page so that it now co...
Version 4.04 release
Posted: 7th October 2016
The latest update to the Radio Operations System has been launched, which includes a new section ...
New version released
Posted: 9th July 2016
The latest upgrade for the Radio Operations System went live in the middle of June. The coding be...
Comms section upgraded
Posted: 20th April 2016
The inbound comms section has been upgraded to make it easier for presenters to move text messages t...